Pack Size Change Daivobet Gel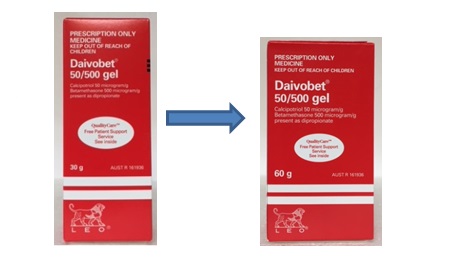 Please note the following notification from Leo Pharma Pty Ltd:-
"Please be advised effective 1 March 2019 Daivobet Gel 30g (Pharmacode : 2392070) will no longer be reimbursed. Accordingly Daivobet Gel 30g will be transitioned to a 60g SKU from 30 September 2018.
No returns will be accepted by LEO Pharma for unsold inventory on 28 February 2018 and accordingly we ask you manage your inventories to ensure they are reduced by that date.
Daivobet Gel 60g (Pharmacode : 2553015)   will be introduced and will replace the product in the market (reimbursement effective 1 October 2018) and accordingly we ask you identify your requirements for 60g Gel to ensure supply into the market from 12 September 2018."
ProPharma/PWR will continue to sell through the stock of 30 gm until depleted and only then will we implement automatic substitution / replacement.
Please continue to order the present product and size:-
Daivobet Gel 30 gm           Pharmacode 2392700     Schedule price $26.12
NOTE:- Daivobet Gel 60 gm is not listed nor funded before 1 October 2018.
As of the date of this notification ProPharma / PWR cannot accept Daivobet Gel 30 gm for credit under any circumstances.
Together we can make this a seamless and painless transition.
We thank you in anticipation of your ongoing support.