m-Nystatin Oral Liquid 24 ml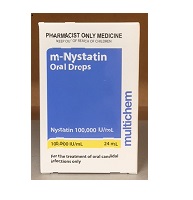 On behalf of pharmacy we would like express thanks to Multichem for their initiative in reducing the price of the above product effective 17 June 2017.
Pharmacy can now purchase at manufacturer cost of $1.95 improving the margin on this product effectively by $0.60 per unit until reference pricing is applied 1 October 2017.
This allows pharmacy to continue to purchase and dispense this product until Delisting 1 January 2018 or stocks are depleted – whichever comes first
Once again thanks Multichem.