Locorten-Vioform Ear Drops 7.5 ml
Click here to read the notification from AFT Pharmaceuticals relating to a supply issue for the above mentioned product.
At this time there is no know date for re-supply and we have limited stock available.
For that reason ProPharma /PWR have taken the immediate action of placing an allocation on this product until further notice.
That allocation is 3 units per customer per week. This decision is finite and we ask that you abide by the decision.
It will not suit everyone, but there is an alternative if you wish to avoid the out of stock potential:-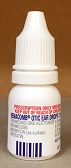 Kenacomb Ear Drops 7.5 ml                   Pharmacode 253634
Both are Fully Funded.