IMMEDIATE ACTION REQUIRED URGENT MEDICINE RECALL CONSUMER LEVEL Weleda Baby Teething Powder 60g & Baby Colic Powder 60 g Pharmacode 2452057 & 2452197 respectively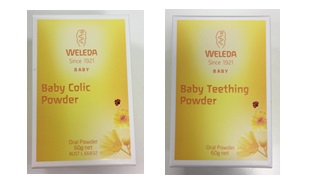 This is an update from the article published earlier. It is now a full recall.
Click here to read the updated WELEDA notification relating to the above mentioned product. All batches are now on recall.
Click here to access the updated Acknowledgement Form.
You must immediately complete and fax the acknowledgement form provided regardless of whether you have stock or not. This is a requirement under your current ICPSA 2018.
NOTE: ProPharma /PWR will be processing credit returns and all credit returns must be accompanied by a copy of the acknowledgement form and the associated credit return form completed accordingly.
Please clearly identify any credit returns by packaging in a separate bag and clearly labelled as RECALL CREDIT.
Credits MUST be returned no later than 17 May 2019.
ProPharma /PWR do not have stock due to all batches being recalled.
We thank you in anticipation of your ongoing support.