Early Notification and Brand Change Zoledronic Acid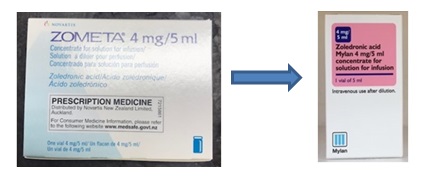 As advised via PHARMAC Tender Results 31 January 2019 there is to be a change in the listing and future sole supply of Zoledronic Acid Inj.
New listing from 1 March 2019 Zoledronic Acid Mylan Inj 4 mg per 5 ml vial single Pharmacode 2503360 Schedule price $35.03 (price decrease from $84.50)
Incumbent brand Zometa Inj 4 mg per 5 ml vial single Pharmacode 2473755 Schedule price $550.00
Reference pricing will apply from 1 May 2019.
HML (Hospital Supply Status) commences 1 May 2019.
CSS (Community Supply Status) commences 1 August 2019.
As of the date of this notification ProPharma / PWR cannot accept Zometa Inj for credit under any circumstances.
We would recommend you continue to purchase the incumbent and we will change automatically as existing stocks are exhausted. But be very wary of holding stock.
You MUST manage your stock so that you have ZERO stock at time of reference pricing being 1 May 2019. Failure to do so could prove very costly.
Once again we need your support to ensure stock in the supply chain moves through, to effectively ensure no losses are incurred. Together we can make this a seamless and painless transition.
We thank you in anticipation of your ongoing support.